Our most
popular menu items
The most ordered items off the menu.
Events at El Kallejon
Come join us, we're always happy to see you!
Hours
Sunday                 12:15 pm – 9:30 pm*
Monday                5:00 pm – 9:45 pm
Tuesday               3:00 pm – 10:30 pm*
Wednesday          3:00 pm – 11:00 pm*
Thursday              3:00 pm – 11:00 pm*
Friday                    3:00 pm – 12:00 am*
Saturday                3:00 pm – 12:00 am*
Note:
*Kitchen closes 15 mins before closing time.
*El Kallejon is closed on certain holidays. Please call in advance.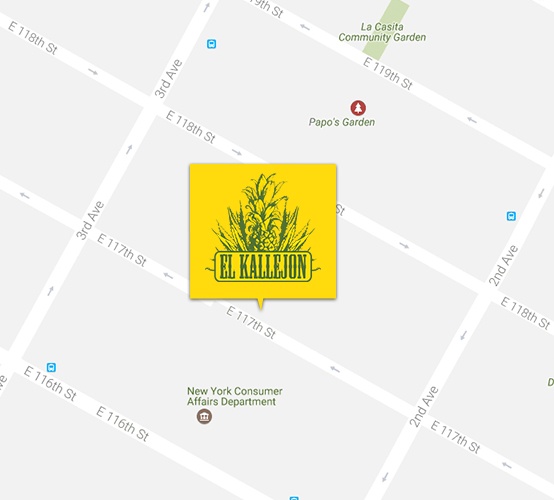 Location
209 East 117th Street
between 3rd and 2nd Ave,
New York, NY 10035
Bienvenidos a todos!
Like the alleyways in Mexico City, where dimly lit cantinas and traditional restaurants are tucked away off the beaten path, El Kallejon is exactly what you would expect of its name…
Except this is New York City and the experience of El Kallejon is anything but traditional. Here, you will enjoy the rich flavors of fresh Mexican ingredients with twists that are reflective of this diverse city. Latin, Mediterranean, Japanese and French culinary influences all shape that menu that our guest love!
Sit at the wine bar and enjoy our special selection of wine and sangrias. Join us in the warmer months in the backyard for live world music and grilling.
Salud y buen provecho!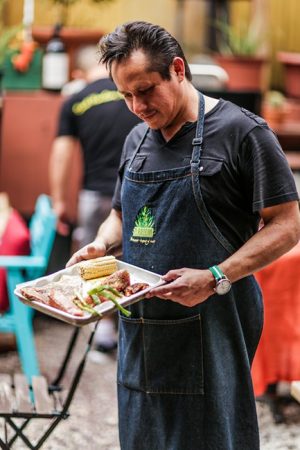 See Our
Reviews
This restaurant has ridiculously good. The chef has spent over 15 years working on each recipe. You can't go wrong with anything you order. It is kinda tucked away but that makes it even better. I go here whenever I need to celebrate and especially to watch the Super Bowl.
Ant K. ,
Yelp Verified User
Loved everything about this restaurant! We ate here before going to the Harlem Repertory Theater and had an amazing meal. Great Mezcal and Tequila selection... ask your server for suggestions. Good cocktails. and REALLY REALLY great food. The Ceviche was fresh and just perfectly seasoned, the flatbreads were delicious, and the tostadas interesting and a perfect balance of flavors and heat. The Kallejon guacamole is wonderful, too. Will make the trip to East Harlem just for El Kallejon, even without the theater experience after. OH, and the playlist covered everything from 90s house, to salsa, to country and everything in between. All just added to the eclectic and fun ambiance of this little gem that's worth the trip north!
Jim S. ,
Yelp Verified User
This is our Friday spot most of the time. It's really cozy for tapas and drinks, I wish they had more dinner options. The host and owner is always so nice and helpful and the food is delicious. Love the creativity on the cocktails and the decoration is artistic and inviting, totally recommend this hidden gem in East Harlem.
Lissarette V. ,
Yelp Verified User